••••••••WELCOME TO I.O. ACTING STUDIO, MONTREAL••••••••
ABOUT US

Adam Kelly Morton

The founder of I.O. Acting Studio in 2008, Adam was born in N.D.G., Montreal, Quebec. Raised in the West Island of Montreal (in Pierrefonds) he attended John Rennie High School and John Abbott CEGEP (Health Science). He pursued his studies at Concordia University, attaining a B.Sc in Biology in 1995 and a B.FA in Theatre Performance and English Literature in 1999. In 2001 he completed his M.FA in Acting at York University, Toronto.

Teaching/Consultancy
In addition to teaching hundreds of students, Adam has helped applicants auditioning for theatre programs in Canada and the UK gain admittance to prestigious conservatory programs such as The Actors Studio and Circle in the Square in New York City; York University and George Brown College in Toronto; and Concordia University, Dawson College and John Abbott College Professional Theatre in Montreal. He has coached actors on an individual basis for feature film auditions (for starring roles in Canada, the US, and Denmark). Adam has also worked as a private acting coach on a Hollywood film (White House Down), in addition to providing coaching/self-tapes for visiting Hollywood, Toronto, and Vancouver actors working on projects such as X-Men, Quantico, Helix, and others.

As a teacher, Adam has over ten years of experience. At the university level he taught undergraduate acting while completing his Master of Fine Arts in Acting at York. He has taught high school English and Drama at Trafalgar School for Girls, John Rennie High School and at the Cartier Adult Education Centre. He was also a substitute teacher for many years in elementary and high schools on the West Island. Most recently, Adam taught at Dawson College, in the Professional Theatre department, while maintaining his role as I.O. Acting Studio's main teacher.

As a script consultant, Adam's first project was the feature film Polytechnique (see below). He has consulted on several play, short film and feature film projects in English and in French.

Adam's acting workshops have been appointed by the Quebec Drama Federation (QDF) and by the Quebec Writer's Federation (QWF). He has been a guest speaker at York University, Ryerson, Concordia, McGill, and at the International Civil Aviation Organization (ICAO) for International Women's Day. He also taught workshop classes on acting and improvisation at McGill University.


Performance

As a performer, Adam's stage career began at the age of five and he has acted ever since. In 1992 he co-founded the Wahoo Family Theatre Company with fellow thespians Donovan King and Matthew Legault. They mounted classical productions, children's theatre and mummery.

In 1998, Adam wrote and directed his first full-length play, Periostracum: a site-specific work (set in a bar) for the Montreal Fringe Theatre Festival.

After a multitude of other independent and university productions, Adam's professional stage career began at the Factory Theatre Toronto, where he landed the title role in Necessary Angel's production of The Piper by Colleen Murphy, directed by Richard Rose. He later went on to play the role of Luke O'Connor in Ota, an adaptation of Robert Lepage's Seven Streams of the River Ota. He also played in a number of indie-produced and Fringe productions, including Harold Pinter's One for the Road and John Osbourne's Look Back in Anger, respectively.

On camera, Adam drew experience from a number of commercials and made-for-tv projects. He had a bit part in Canada: A People's History playing an Irish upstart. He was featured for many years in a UK commercial (for Anadin, an Aspirin-like product). In 2003, he acted in his first feature film, playing the role of Reese in Remembering Moore, directed by Peter Cho. He was the lead actor in the web series Montreal Hearts (see below). Most recently, Adam acted in a dramatic reenactment program for the Discovery network.

The Anorak

Developed as a graduate performance assignment, Adam's play The Anorak–a 90 minute monologue about the life and death of Marc Lépine (perpetrator of the Montreal Massacre at l'Université de Montréal)–debuted in 2000 at York University. anorakexcerptsister

The Montreal premiere took place in September 2004 at Zeke's Gallery. In March 2005 the show was performed at the Queen's University Engineering Department in Kingston. Additional Montreal productions have taken place at McGill University, Ryerson and Concordia.

In 2007 the play won the Montreal English Critic's Circle Award (MECCA) for Best Script, also garnering Best Actor and Best Overall Production nominations. The play was listed in 2006 for Best of the Year in the Montreal Mirror, as well as in La Presse. In 2004, The Anorak was named in the Montreal Gazette's Best Plays of the year. The French version L'Anorak, translated by Genevieve Charbonneau, premiered in Quebec City in Fall 2008.

After seeing the play at McGill University in 2006, Executive Producers Karine Vanasse (Pan-Am, Ma Fille-Mon Ange) and Max Rémillard (Remstar) hired Adam as Script Consultant for the feature film Polytechnique. Working closely with director Denis Villeneuve (Sicario, Arrival) Adam helped integrate the character of The Killer (Marc Lépine) into the film.

Adam performed The Anorak in French on the 20th anniversary of the massacre, at l'Université de Montréal, December 6, 2009. The play made its first run overseas, with performances taking place in London, UK, starring Felix Brunger, and directed by Matthew Gould. Adam reprised the role for the 25th anniversary of the massacre in 2014, at the Montreal Improv Theatre.

Comedy and Film
To balance the tragic subject of Anorak in his performing life, Adam co-founded the sketch comedy troupe The Dancing Cock Brothers in 2005. Over a five-year span, the DCBs brought nasty sketch comedy to Montreal and Toronto with performances at both Fringe Festivals and Sketchfests, Main Hall and Petit Campus, to name a few.

In 2010, the DCBs disbanded and made the move into film, where Adam served as the show-runner and lead actor for Montreal Hearts, a comedy series by the newly formed Gung Horse Productions. The show ranked on Indie Soap of the Week charts for 8 weeks and was nominated for an ISOW Viewer's Choice Award.

Montreal Hearts was also featured on ABC news via a profile on Funny or Die, where it was nominated in the Top Comedy Videos of the Year for 2010.

In 2011, Adam made his first short, Communication Policy. He wrote, directed and edited the film, with students of I.O. Acting Studio being cast in the principal roles. CP was an Official Selection at the Moving Image Film Festival of Toronto and at the Rome International Film Festival in 2012.

His short film Foreign Language was an Official Selection of the SoHo NYC International Film Festival and of the Rochester International Film Festival in 2013, where it was selected for the Best of the Fest compilation. The Montreal premiere took place at the NDG Off The Wall Film Festival where it won the Fan Favourite Award.

Having completed the short film How To Talk To Boys, Adam turned his attention to the romantic comedy Bridges Over Montreal. With production in December 2012, and post-production completed in June 2013. It eventually yielded a short film, Adiel & Didier, that went on to the Beloit International Film Festival and the NDG Off The Wall Festival in 2014.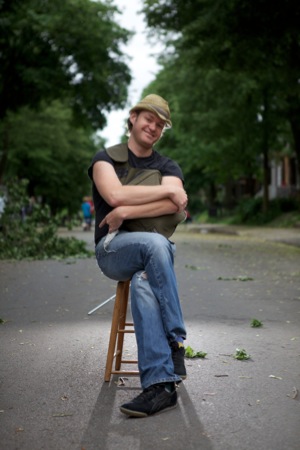 Writing and Life
In addition to dozens of screenplays and scenes for film, as well as scores of sketches for comedy, Adam has published short stories, articles, reviews, and poetry. His fiction and non-fiction work has been published in The Fiction Pool, Open Pen London, Talking Soup, The Danforth Review, Untethered Magazine, Transition Magazine, Mulberry Fork Review, Urban Graffiti, Menda City Review, (Cult)ure Magazine, Encore Lit, and Roverarts, among others.

Currently, Adam is working on short stories, and on a novel: a collection of drinking memoirs called In the Soft.

Adam lives and works in N.D.G., Montreal, where he also designs and plays board games, and is editor in chief of The Bloody Key Society Periodical literary magazine. Oh, and he's also married with four young children, so there's not much sleep—but plenty of coffee and delightful chaos.

Molly McGivern

The newest addition to the I.O. Acting Studio team, Molly was born in San Francisco and has lived in Honolulu and, most recently, New York City. She graduated with distinction in Psychology, Literature and Theatre from McGill University.

As an actor, she trained at the American Conservatory Theatre in San Francisco, the Academy of Film and Television in Honolulu, and Michael Howard Studios Summer Conservatory in New York. Her training began at the age of four in Judy Berlin's Kids on Camera workshop in San Francisco. Recent credits include leading roles in Evita, Maria in The Sound of Music, and Shelby from Steel Magnolias — in Kyoto, Montreal, New York, and Hawaii, respectively. While in Hawaii, she had a recurring role on the ABC program, Lost.

Molly has written award-winning stage productions, most recently two interactive children's plays at The Centaur Theatre, Montreal, and a short film which won Best Film and Most Creative awards at the Montreal Fringe Film Festival. She teaches theatre, directs plays and musical productions internationally. Using theatre and music, she taught academics and mainstream social skills-building with autistic children in Hawaii. She has also used theatre and music as experimentation grounds for teenagers in Mongolia, and assisted drama therapist, Dr. Sue Jennings, in working with Roma communities of Romania. She also collaborated with Theatre of the Oppressed founder, Augusto Boal, at NYU.

Currently based in New York and Montreal, she continues to write and perform in theatre, film, and music.